Pride Month is a month that's dedicated to the support of LGBTQIA+ and celebrating LGBTQIA+ culture. The reason Pride Month is in June is to correspond with the Gay Liberation Movement leading to the uprising of Stonewall. As we honor those who have paved the way for LGBTQIA+ rights and stood up to stigmas and being themselves, celebrate by checking out these events below! Have a happy and safe Pride! 
When: June 9th at 7 pm
Where: Trenton Thunder Ballpark
Come out and celebrate pride with a great night at Trenton Thunder! In addition to Pride Night at the ballpark, it's also Thirsty Thursday with great deals and drinks to satisfy. To end the night, stick around for the postgame fireworks! 
Purchase your tickets here!
Photo via mlbdraftleague.com/trenton
15 Livingston Avenue, New Brunswick
When: June 11th at 8 pm
Join us for the return of The Golden Gays™! The Golden Gays™ or GG™ have quickly emerged as the premier Golden Girls musical show in the country. This evening event takes place in our intimate studio space and is an interactive musical game show performance called "The Golden Games."
More about GG™: The Golden Gays™ burst onto the scene in 2017—first at RuPaul's DragCon NYC, then at the famed Rue La Rue Cafe, where their trivia show video went viral. What began as a flash mob has now skyrocketed to sold-out engagements all across America and even the high seas. GG™ tours with their hit musical shows "Hot Flashbacks," "The Golden Games," "Thank YULE For Being A Friend," and "Betty & Bea Against Humanity," to enthusiastic audiences in Connecticut, Delaware, Florida, Indiana, Maryland, Massachusetts, New Jersey, New York, Ohio, Pennsylvania, Texas, and the middle of the ocean.
Photo via www.stnj.org
Princeton Pride Parade and After Celebration
Where: Princeton Municipal Building, 400 Witherspoon Street
When: June 18th at 11 am
Find more information and after-party activities here!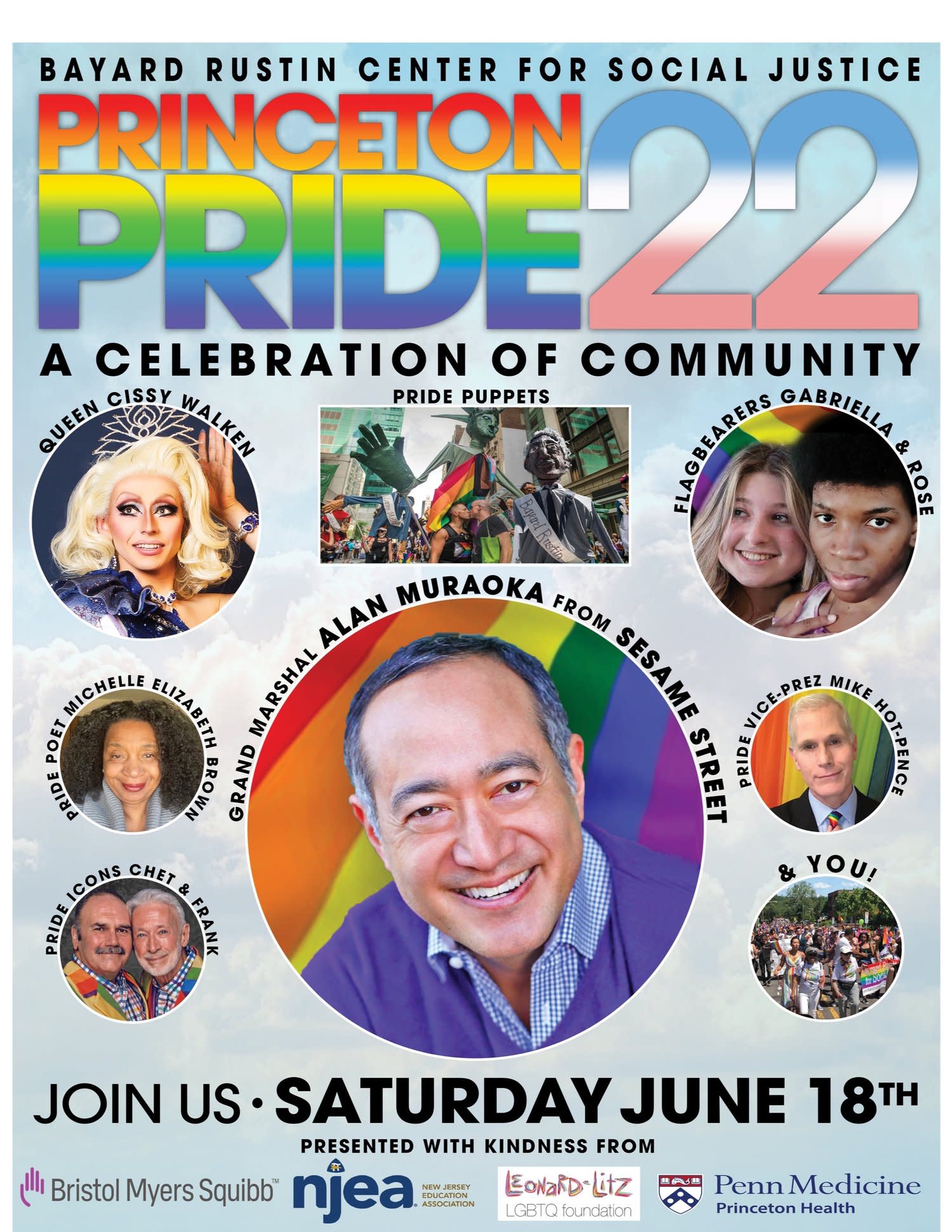 Photo via https://www.rustincenter.org/pride-22
Drag Brunch Pride Edition at Killarney's Publick House
Where: 1644 Whitehorse Mercerville Road, Hamilton
When: June 18th at 11 am (doors open at 10 am)
Killarney's Publick House presents Drag Brunch, Pride Edition with tickets at $35. Doors open at 10 am so make sure to come early to grab a complimentary mimosa, order some brunch and get a great seat! To purchase your ticket, called Killarney's Publick House at (609) 586-1166. Make sure to call and RSVP before there are no spots available.
Photo via Killarney's Instagram