Parking in Princeton NJ
When you arrive in downtown Princeton (the Borough of Princeton), your visit will be more pleasurable if you have familiarized yourself with the public parking areas and the easy to use "ParkPrinceton" program. Click below for all the information on how and where to park in Princeton! Visit our Princeton area maps page.
HOURS OF OPERATION:
Parking meters are enforced in the Borough of Princeton during the times listed down below. 
Monday through Thursday 9:00 am to 8:00 pm
Friday through Saturday 9:00 am to 9:00 pm
Sundays from 1:00 pm to 8:00 pm
Payment is required all day every day at the 15 minute Wawa meters
The purpose of time limits is to ensure that parking spaces regularly become available for customers of area business and visitors to the downtown.
Rates and time limits vary per location, and are generally lower outside of the Central Business District.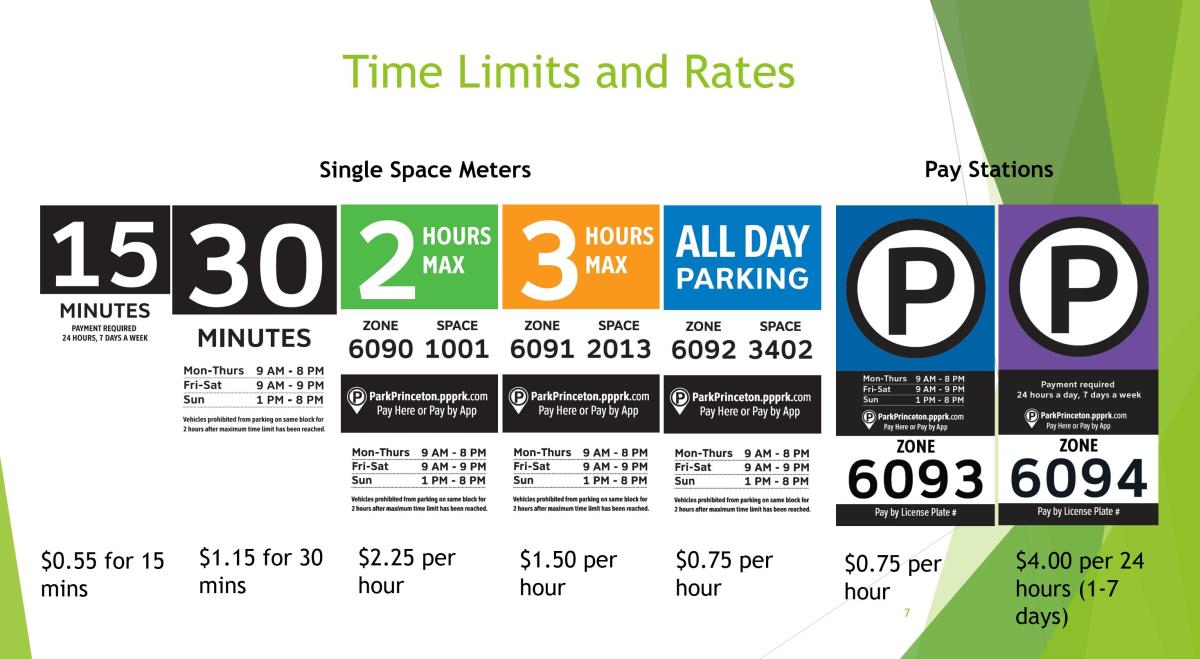 Please refer to the ParkPrinceton Map, meter time periods and Printable Map here.
PAYMENT METHODS:
The following payment methods are accepted at all single space and pay station metered parking operated by the Municipality of Princeton:
Coins-nickles, dimes, quarters and $1 coins
Credit cards-Visa, MasterCard, American Express, Discover
Debit Cards with the Visa symbol
Park Princeton mobile payment app
Parking payment receipts for credit card transactions are available using https://www.myparkingreceipts.com/ My Parking Receipt is a convenient website that allows customer to view, download and print their parking receipts for parking sessions paid by credit card at any IPS meter. 
FREE STREET PARKING: 
There is free street parking on the following holidays:
New Year's Day
Martin Luther King Jr. Day
Easter Sunday
Memorial Day
Independence Day
Labor Day
Thanksgiving Day
Christmas Day