Have you heard? Princeton's parking got a bit of a makeover. Well, at least the meters did. We're sharing all updated information below!
Rich in history, artistic culture and upscale dining and shopping, there is a lot to experience in Downtown Princeton! You'll want to get an up-close look to see it all, which is why we put together a complete list of parking in town, including the secret free parking (ssh!), so you can spend more time enjoying the sights and sounds of this booming urban community instead of looking for that open spot.
Parking Garages
Spring Street Municipal Parking Garage
28 Spring Street, Princeton
There is free parking here for the first 30 minutes! The perfect option if you have a quick stop to make nearby. Now open 24 hours, and it's centrally located near the library and within a few blocks of many dining and shopping options. This location also offers a dual-port Level II charging station for electric vehicles. Smart cards are also accepted here.
Hulfish Street Parking Garage
7 Hulfish Street, Princeton
Located in the heart of Downtown Princeton (next to Halo Pub) and offers special rates for weekends and evenings.
Chambers Street Parking Garage
25 Chambers Street, Princeton
Another option that's right in Downtown Princeton with easy access to the street at street level. Note that there's no elevator located here. There is, however, an electric charging station near the entrance here for electric cars.
Privately Owned Garages
In addition to the parking garages mentioned, there are also two privately owned garages with public parking at 11 Hulfish and 25 Chambers Streets.
Parking Meters
Princeton recently replaced its existing parking meters with new smart stations, which provide more payment options such as coins, credit cards and even mobile payment. The hours available have also been streamlined and are the same in every metered street and surface lot except for Wawa, which is enforced all day, every day. The hours available are:
Monday - Thursday         9am - 8pm
Friday - Saturday             9am - 9pm
Sunday                              1pm - 8pm
Each timed parking area has a color designating the maximum period of time to park:
Yellow         15-30 minutes       
Orange        3 hours
Blue             All day parking
Purple          24 hour parking (2 days max)
There is no overnight parking on any Downtown street from 2am - 6am. Not all the streets have signs noting that.
Payment is now easier as well. You have the option of inserting a coin, credit card or using the Park Princeton App (ParkPrinceton.ppprk.com), which allows you to pay using your phone and get alerted when your parking session is set to expire. Bonus: you can also add more time to your session with the app without having to run out with a pocket full of quarters before the dreaded meter police come a knockin'.
You can view and print parking receipts online by going to MyParkingReceipt.com and entering your credit card, vehicle information and license plate number.
Note: Smart Cards are NO longer compatible with the new parking meters and pay stations.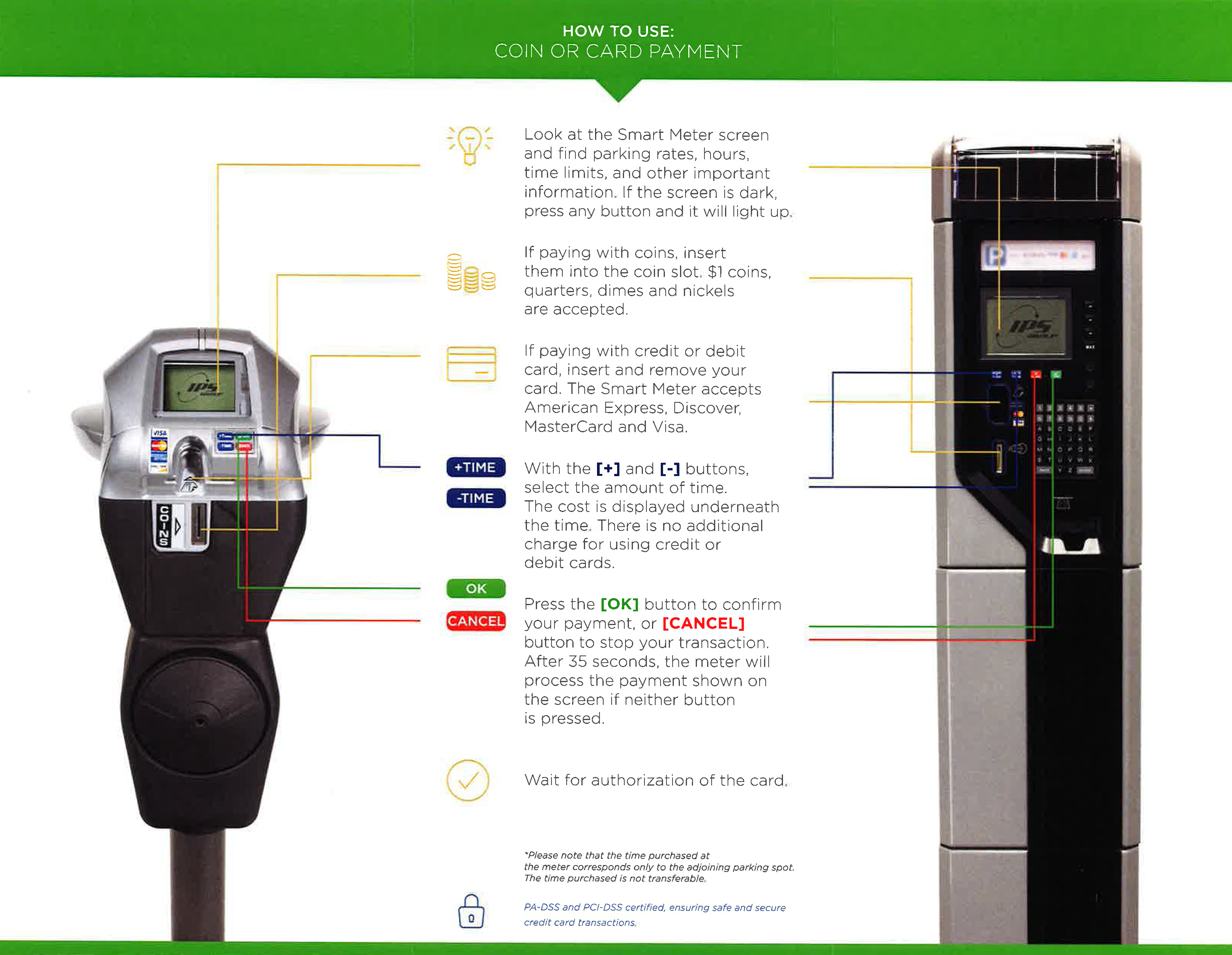 Free Parking
If you're visiting during the holidays, there is free on-street parking on:
Martin Luther King Jr. Day
Easter Sunday
Memorial Day
Independence Day
Labor Day
Thanksgiving Day
Christmas Day
New Year's Day
If you're visiting the University, you're welcome to park for free in Lot 23 at 80 Pyne Drive. This is available on the weekdays from 8am - 5pm. On weekends and after 5pm on weekdays, you may use any numbered and non-restricted parking lots, including the West Garage and North Garage. The Princeton University Bookstore also offers free parking on weekends and after 6pm on week days in their parking lot.
For those who prefer maps, see below for a full list of streets and parking options!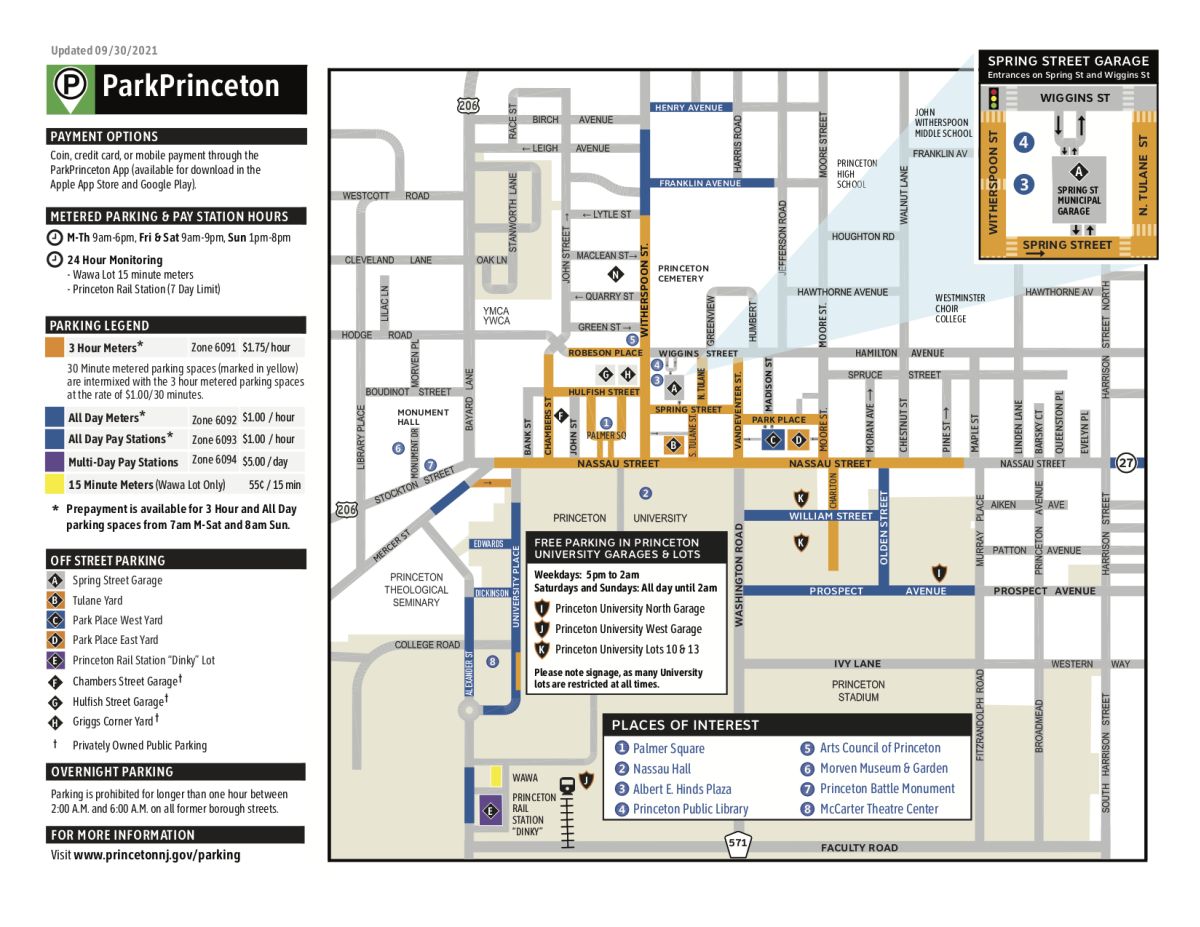 Princeton University Parking Garages
One-day Visitor Parking, Weekdays
Visitors coming to campus on weekdays from 8am to 5pm may park in Lot 21, near Jadwin Gym.
A free campus shuttle operates frequently from Lot 21 during weekdays until the early evening.
 
Campus Parking For Evening Events/Weekends
From 5pm to 2am on weekdays and from 6am to 2am on Saturdays and Sundays, visitors may park in most of the University's numbered parking lots, including Lots 21 and the West Garage.
Directions to Major Parking Lots
Directions to Lot 21
Heading north on Washington Road (away from Route 1), turn right onto Faculty Road. (If you are heading south on Washington Road from Nassau Street/Route 27, turn left onto Faculty Road instead.) After passing Jadwin Gym, turn left on Fitzrandolph Road and then take the first left turn into Lot 21.

Directions to West Garage
From Alexander Road: Turn onto Faculty Road (traffic light, gas station), and proceed to the traffic circle. Go three quarters of the way around the circle and turn right onto Elm Drive. At the next traffic circle, go three quarters of the way around and proceed to the garage on the right.

From Washington Road: Follow Faculty Road to the traffic circle. Go a quarter of the way around the circle, and turn right onto Elm Drive. At the next traffic circle, go three quarters of the way around and proceed to the garage on the right.