Pi Day Princeton 2020 will be a virtual celebration! 
Join on Facebook and Instagram to follow along in a day's worth of irrational fun, including contests, tours, video lectures, & more! 
The Einstein Look-A-Like and Pi Recitation Contests will be conducted on our social media pages.  Winners of each category will receive $314.15!
We're spending today – March 10th – coordinating with our event partners to adjust events and will have details here and on the website by the end of today.  
Follow for all the fun! 
#princetonpiday2020
Did you know: Albert Einstein first visited Princeton University in 1921, the year before he won the Nobel Prize in physics? He came to deliver lectures on the theory of relativity and to accept an honorary degree, and he ended up living in Princeton for the rest of his life while working at the Institute for Advanced Study. He's a significant part of Princeton's history, which is why he's celebrated every year in town on his birthday, March 14th or 3.14, the mathematical constant known as Pi. Since Einstein was quite the mathematical wizard, why not celebrate both his birthday and Pi? Join us in Princeton for a 4 day celebration of Pi-rades, pie eating, pie judging, pie throwing, Pi reciting, pizza pie judging and Einstein look-alike games. You might just leave with a new appreciation for math.
Kick off the celebration with commemorative t-shirts available at the Einstein Museum inside Landau at Nassau Street!
Wednesday, March 11th
7:30pm, Author's Presentation - Einstein in Bohemia by Professor Michael Gordin
Princeton Public Library, Community Room, 65 Witherspoon Street
"Professor Gordin's narrative is a masterfully crafted account of a person encountering a particular place at a specific moment in time."
Friday, March 13th
7:30pm, Pi Day Princeton Dance Party
Paul Robeston Center for the Arts, 102 Witherspoon Street
Einstein had a secret love for dance so we of course must honor that during our Pi day celebrations. If you arrive dressed as Einstein you get in for FREE. You'll leave feeling energized and maybe a little smarter too.
Saturday, March 14th
9:00am, Apple Pie Eating Contest
McCaffreys, 301 North Harrison Street (located in Princeton Shopping Center)
First come, first served. Arrive by 8:45am if you wish to participate and report to the second floor inside the market. Stop by Lillipies Bakery next door for specialty Pi Day inspired pies!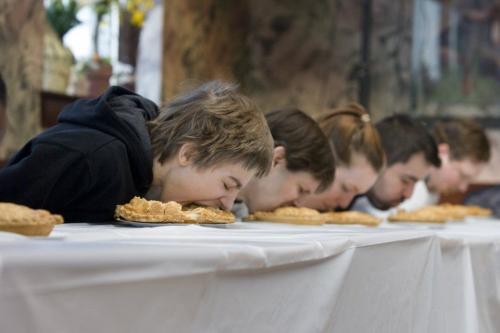 10:00am - 11:00am, Surprise Party for Albert Einstein
Nassau Inn, Princeton Room, Palmer Square East
Arrive early to help get ready for the big birthday bash and learn some fun facts at the same time. When Einstein arrives, he'll think he's gotten lost again until his fans spring into action to sing Happy Birthday! Great event for kids, especially if you want to join Albert in eating his birthday pie.
10:30am - 11:55am, Einstein in Princeton Guided Walking Tour
Nassau Inn, 2nd Floor at the Red Couches, 10 Palmer Square West
See the neighborhood and hangouts of Princeton's beloved genius. These are brisk paced walks and cover just about 2 miles.
12pm, Einstein Look-A-Like Contest
Nassau Inn, Princeton Room, 10 Palmer Square West
Arrive early since this event is standing room only! Participants of all ages are welcome to participate in portraying Einstein. However, the winner that's under 12 years old receives $314.15! Register your child here. If you were born on Pi Day, you are automatically allowed to judge this event and be a judge for the rest of your life!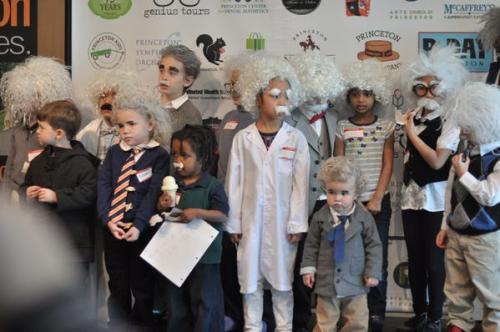 12pm - 4pm, Einstein Salon and Innovators Gallery
Updike Farmstead, 354 Quaker Road
View the Historical Society's Einstein exhibit on your way in or out of town! Note that there's a $4 admission fee.
12:00pm - 6:00pm, Princeton School Gardens Cooperative Fundraiser
The Bent Spoon, 35 Palmer Square West or Lillipies, 301 Harrison Street
Stop by during this time frame to grab a treat for yourself, and 100% of the proceeds will go directly to the Princeton School Gardens Cooperative.
1:00pm, "What is Pi? How Memory Works"
Nassau Inn, Princeton Room, 10 Palmer Square West
Learn a fun demonstrative of memorizing Pi from the world record holder, David Fiore. He was the first to break 10,000 digits! His tricks are astounding!
1:30pm, The Pi Recitation Contest
Nassau Inn, Princeton Room, 10 Palmer Square West
An event for pre-teens (age 7 - 12 years old). Whoever recites the most numbers wins $314.15! Register your child here. Pi champions Marc Umile and Dave Fiore will be the official judges.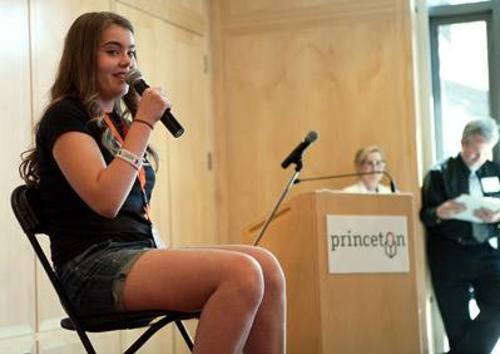 After the Pi Recitation Contest will be the Pi-Rade, led by the winner of the Pi Recitation Contest! This parade is a great way to celebrate Pi throughout Palmer Square.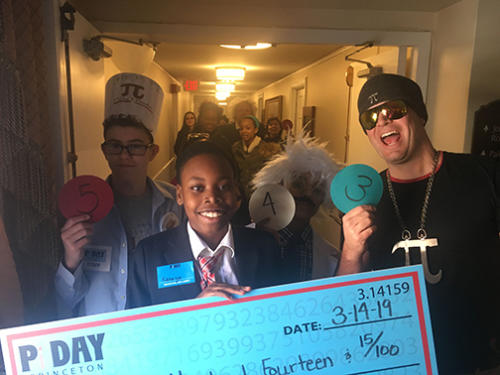 2:00pm - 2:15pm, Einstein Gallery Talk
Historical Society of Princeton, 354 Quaker Road
Head over to hear a quick overview of Einstein's life in Princeton, highlighting different items in the exhibition. Free parking onsite!
2:45pm, Pizza Pi Competition
Princeton Pi, 84 Nassau Street
Three contestants will be chosen onsite, based on enthusiasm and creativity, to compete at this fun event! Each competitor will have 5 minutes to choose from all the ingredients at Princeton Pi to create the best pizza. Judges are selected from the audience, and the winner will receive one free medium pizza for the next three months!
3:14pm, Pie Throwing Event
Palmer Square Green
Grab your bestie and head over to the heart of Princeton for some good old fashion pie in the face! Free until supplies last!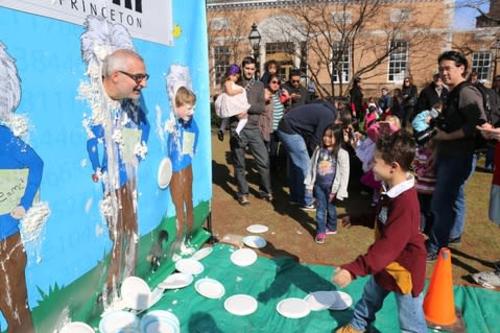 3:14pm - 3:30pm, Pi Day Pop Up Wedding/Vow Renewal/Promposal Ceremonies
84 Nassau Street
Want to get married on Pi Day and Einstein's birthday? Email findus@princetontourcompany.com to request a reservation! You'll receive a fun heart shaped pizza to celebrate.
5:00pm, Lillipies Cookbook Signing
301 North Harrison Street
Join the owner of Lillipies to celebrate the launch of her first cookbook! Her bakery will feature lots of pies throughout the day, along with some bent spoon ice cream who has pi-inspired flavors.
Monday, March 16
6:00pm - 8:30pm, "IQ" Movie Screening
Princeton Public Library, 65 Witherspoon Street
As a final celebration, join the folks at the library to screen "IQ," which was actually filmed in Princeton. After the movie there will be an Open Archive by the Historical Society of Princeton displaying items from the production.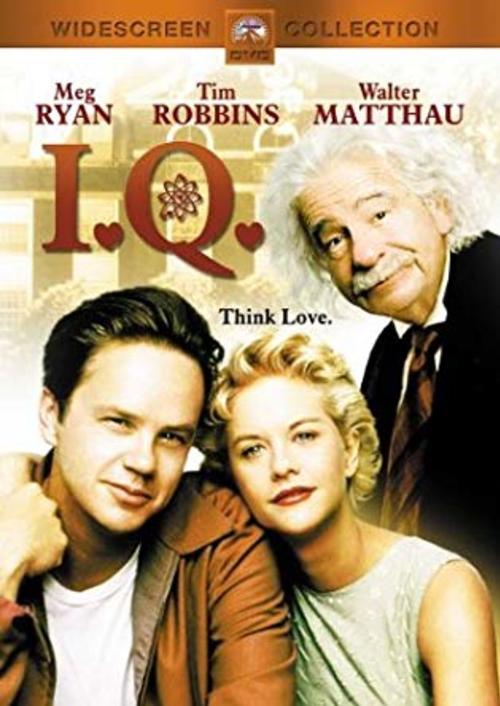 Since you'll be in Princeton all day, you might find this Parking Guide helpful!